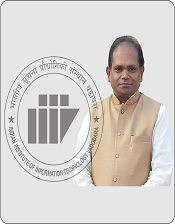 Prof Sarat Kumar Patra
Director, IIIT Vadodara and IIITV-ICD
director@iiitvadodara.ac.in
Welcome to the Indian Institute of Information Technology Vadodara, International Campus
DIU
(IIITV-ICD).
The DIU campus is a part of IIIT Vadodara providing state of art education infrastructure in the Union Territory of "Dadra and Nagar Haveli and Daman and Diu". The town of DIU (an erstwhile portuguese colony) is one of the smart cities (under Government of India) and is located adjacent to Gujarat on the west coast. Your four years of stay at this picturesque town will be a memorable period of your life.
The
IIITV-ICD
campus will provide you a beautiful environment for your studies. The institute is located in the
"
Diu Education Hub
"
and is a part of IIIT Vadodara. We will stick to the values of academic excellence. All technical and logical facilities at IIIT Vadodara will be extended to the DIU campus. The academic curriculum and academic process will be the same. Within a couple of years master and doctoral students will join the campus to improve the academic ecosystem. I am confident your stay at DIU will be a memorable one in terms of academic pursuit and personality growth.
I welcome you again to the campus and wish you all the best for a new future.